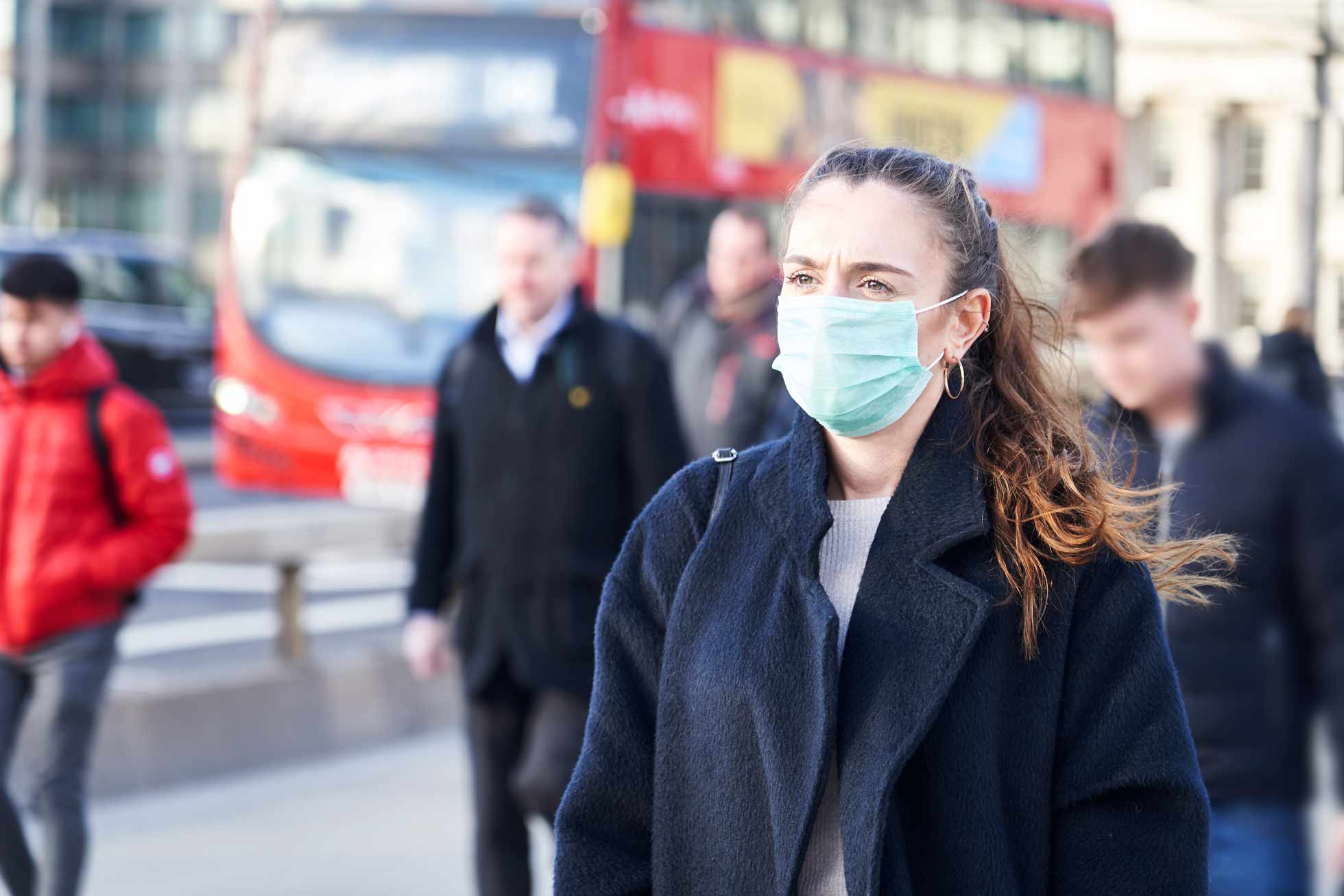 Answering your questions about COVID-19
The COVID-19 virus is still very new, which means that we are still investigating the long term effects it has on patients' health. In addition, there is a wealth of data available about the short term symptoms of the virus, but there have been misinterpretations of this data, one of which being the initial belief that the virus manifested primarily as a respiratory condition (it has since then been established that it is a microvascular condition, which can affect any organ in the body).
However, since the declaration of a pandemic by the World Health Organisation (WHO) in March 2020, there is a great deal of evidence concerning COVID-19 that we have collected and can use to inform and improve diagnosis and treatment. We have collated this information below in order to provide our patients with a better understanding of this virus, and what to do if they have symptoms.
What are the symptoms of COVID-19?
We know that the three main symptoms of COVID-19 are a high temperature, a continuous cough and a loss or change to your sense of taste or smell. Most people who contract COVID-19 will have at least one of these symptoms.
However, a study by researchers at King's College London has collected data from an app in which those with COVID-19 have reported many symptoms beyond this. The data has been divided into six different clusters of COVID-19, distinguished by the symptoms that they present:
('flu-like' with no fever): Headache, loss of smell, muscle pains, cough, sore throat, chest pain, no fever.
('flu-like' with fever): Headache, loss of smell, cough, sore throat, hoarseness, fever, loss of appetite.
(gastrointestinal): Headache, loss of smell, loss of appetite, diarrhea, sore throat, chest pain, no cough.
(severe level one, fatigue): Headache, loss of smell, cough, fever, hoarseness, chest pain, fatigue.
(severe level two, confusion): Headache, loss of smell, loss of appetite, cough, fever, hoarseness, sore throat, chest pain, fatigue, confusion, muscle pain.
(severe level three, abdominal and respiratory): Headache, loss of smell, loss of appetite, cough, fever, hoarseness, sore throat, chest pain, fatigue, confusion, muscle pain, shortness of breath, diarrhea, abdominal pain.
Symptoms within the 'severe' categories are associated with a later stage of the virus called 'long COVID' or 'post-COVID-19 syndrome'. These are usually experienced three weeks to three months after infection. 10% of COVID-19 infected individuals will develop these chronic symptoms, and these symptoms will not disappear without treatment.
How reliable are the tests for COVID-19?
Dr Coker says, "Covid 19 testing with swabs of the throat for the viral presence are 70% sensitive and only 95% specific. This means that negative results tell us nothing. Only positive results confidently confirm acute infection."
Unfortunately, the throat and nose swabs that are intended to detect the coronavirus antigen do not seem to be reliable. Many of these tests have presented negative results, but patients have then gone on to develop symptoms. On the other hand, positive results do mean that the patient has acute infection of COVID-19.
However, the antibody test is very reliable. If you test positive for antibodies, it means that you have had the corresponding virus. The vast majority of infected individuals will develop antibodies; only a very small minority do not.
Are you immune to COVID-19 once you've had it?
Antibodies are proof of recent infection and they can remain circulating in the blood for several weeks or months. However, just because the antibodies have disappeared from the blood, does not mean that the patient has no immunity.
In our immune system, there are small white blood cells called 'lymphocytes'. These are produced in response to a pathogen in the body. Once the pathogen has disappeared, some lymphocytes remain and these become 'memory cells'. They're named so because they 'remember' the pathogen, and will respond much quicker if it enters the body again.
The memory cells located in our upper airway should be able to detect contact with COVID-19, and will help our bodies fight against a second infection. Therefore, a negative antibody test does not necessarily mean that you are no longer immune to COVID-19.
Can you become infected with COVID-19 more than once?
There have only been five more published cases of COVID-19 reinfection since the first in March 2020. That's six out of 44.5 million documented cases as of October 2020.
Generally speaking, reinfection is rare. However, there are many unconfirmed cases of reinfection. This may be because patients can still carry the viral DNA (what we call the viral antigen) for a few weeks, even after they feel as if they have recovered.
For example, if a patient tested positive for COVID-19, then after a few weeks begin to feel better, they might believe that they have become reinfected if they fall ill again soon after. However, it could be that they are still fighting the virus, or that they have been infected with a different variant of the virus.
How many strains of COVID-19 are there?
In July 2020, a study was published by Università di Bologna, which identified six strains of COVID-19:
L strain – this is said to be the original strain that appeared in Wuhan, China in December 2019
S strain – this was the first variation of the L strain
V and G strains – these appeared in mid-January
GR and GH strains – these mutated from the G strain, and are the most widespread
Researchers for this study also identified some infrequent mutations besides the above strains, noting that these mutations are not worrying, but should be monitored.
What's the process of diagnosing and treating a patient with COVID-19 at The Coker Chest Clinic?
As with any patient, we will analyse your medical history to check for existing health problems, genetic issues, and other factors that could tell us more about your general health.
In line with Government advice, you will have a video or telephone call with one of our expert consultants to collect information about your symptoms. If well enough, you will be invited into the clinic for a physical assessment, and may be recommended for more specific evaluations, including cardiac and neurological exams.
When it comes to any assessments that we perform, our emphasis will always be on your concerns. As there are so many different symptoms reported by patients with suspected COVID-19, we do not provide a blanket assessment or diagnosis for all cases.
Once a diagnosis has been made, you will be given a tailored management plan to promote full recovery. This may include psychotherapy and physiotherapy, as some patients (particularly those who have had a severe illness) require more comprehensive attention.
Currently, around the country, certain elements of comprehensive rehabilitation plans for COVID-19 are not recognised, and patients are not supported in the way that they should be. We aim to provide excellent care for patients at our clinic, in order to help them make a full recovery.
How long is the recovery period once treatment begins?
The recovery period is a minimum of three months, but it is suspected that patients may need treatment for up to a year. The treatment that is required to help the patient make a full recovery consists of a combination of different therapies – there is no single treatment for this virus yet.
When a patient suspects that they have COVID-19, when should they seek medical help?
Patients who suspect that they have COVID-19 can call us at any time – the sooner, the better. By starting treatment as early as possible, we can monitor, treat and hopefully prevent further complications caused by the virus.
Think you may have symptoms of COVID-19?
Book your consultation with us via our online booking system, or alternatively, you can call us during office hours on 020 7118 5600 with your questions or to book your appointment.